Strange but true: Nobody wants to take a 20 minute online training course, but everybody thinks taking 5 four-minute lessons is no big deal.
So when we wrote the online lessons to teach restaurant managers how to use Net-Chef, we broke the training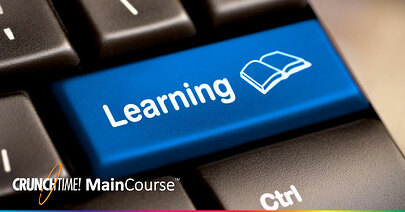 up into little bite-sized chunks that take less time than a cigarette break. In each lesson we:
Focused on the most critical need-to-know stuff
Built simulations so people could practice what they'd learned
Included quizzes to help learners review the material
Then we put the lessons on MainCourse, our Learning Management System, which is a site that gives our clients instant access to the materials, and allows them to track the progress of their people who take the lessons.
The combination of bite-sized lessons and instant access for end-users is a powerful combo. Miller's Ale House used it to train 406 people in just 3 weeks on the newest version of Net-Chef … and nobody had to take time away from their restaurant, or travel a single mile.
MainCourse is available to all CrunchTime clients to help them learn Net-Chef, AND our TeamworX workforce management application, AND our BizIQ business intelligence application. AND… it's free.
Interested in using MainCourse to train your people on CrunchTime? Contact me directly at cbauer@crunchtime.com