Hickory Tavern Reduces Food Inventory 25% with CrunchTime! Suggested Order
Casual dining brand sees corresponding 3% improvement in Cost of Goods Sold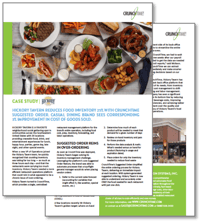 Hickory Tavern is a favorite neighborhood social gathering spot in communities across the Southeastern United States with 34 locations providing craveable food, drink, and entertainment experiences for lunch, happy hour, parties, game day, late night, and other special events.
When a new VP of Operations joined the Hickory Tavern team, he quickly recognized that counting inventory was taking far too long — as much as three hours each day – and that the restaurants were carrying too much inventory. Hickory Tavern needed a more efficient restaurant operations platform that could rein in what appeared to be a chronic issue of over-ordering.
Hickory Tavern turned to CrunchTime, which provides a single, centralized restaurant management platform for the brand's entire operation, including food cost, prep, inventory, forecasting, and labor operations.
---
Get the Case Study