Mary's Pizza Shack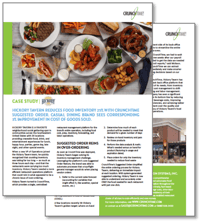 Northern California's famous Mary's Pizza Shack manages food and labor operations profitably with CrunchTime!
For years, Mary's Pizza Shack wrestled with a multitude of systems that made back-of-house operations cumbersome and difficult to manage. A couple of years ago the company began searching for a single restaurant operations solution that would allow operators to consolidate food and labor on one, easy-to-use platform. After a review of several popular systems, Mary's Pizza Shack selected CrunchTime's restaurant operations management solution.
Read about their Mary's experience with CrunchTime. Get the case study today.
---
Get the Case Study