CrunchTime Reduces Food and Labor Costs at Zinburger Wine & Burger Bar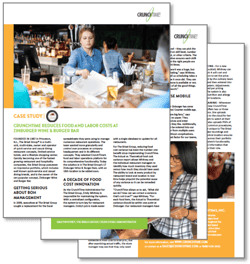 Quickly becoming one of the fastest growing restaurant and hospitality companies, the Briad Group possesses an impressive portfolio, which includes well known quick-service and casual dining brands, and is the owner of the very popular new concept, Zinburger Wine and Burger Bar.
In this case study, the team at Zinburger Wine & Burger Bar explains how CrunchTime is reducing their food and labor costs. From streamlined schedules using innovative new labor management tools, to easy-to-use inventory management apps, learn how CrunchTime is making their seventeen restaurants more efficient to run and easier for their managers to achieve operational goals.
Read this extensive case study today.
---
Get the Case Study!